16 JUL 2011
The Priory Centre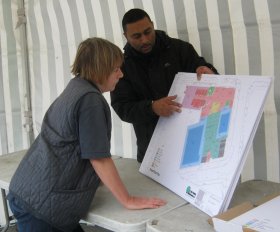 Angie continues to support the campaign by community groups currently housed in the Priory Centre, in Acton, for proper accommodation when they have to leave the premises so that a new school can be built there. While everyone understands the need for more primary school places in Acton, the community groups also provide important services for local residents.
Angie says, "It is essential that they get a new home, big enough to accommodate them all, either in the regenerated Acton Town Hall, or elsewhere in Acton. And they need it as soon as they are moved, or else we may lose some of them."
Angie was briefed on the Council's plans for Acton Town Hall by Council Officer Shehzad Ahmed (pictured with Angie) at their stall in Acton Market.