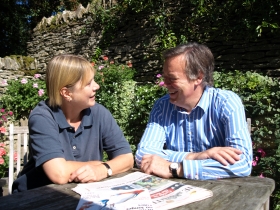 Angie was born in Croydon where she spent her childhood along with her sister, her parents, two dogs and a cat.
Later she went to St. Andrews University in Scotland to read History, where she met her partner Nigel, with whom she lives in their house in the Southfield ward of Ealing.
After leaving University, Angie worked for the British Forces Broadcasting in Gibraltar. On her return to London she spent the next 8 years with LBC radio, where she covered a wide range of London issues.
Her first job in politics was working for the Conservative Party Press Office and later as the Press Secretary to the Party Chairman. She stood for Parliament in the 1997 General Election for the London constituency of East Ham.
In 2000, Angie stood as the London Assembly member for London West Central. She was elected for 8 years. During that time she served as leader of the Conservative Group and was also Group spokesman on a variety of issues including Transport, Arts & Culture and the Olympics.
In May 2008, Angie stood down from the London Assembly to concentrate on her campaign for election as the next MP for Ealing Central & Acton.
As a local resident, she understands local problems and gets actively involved in helping to sort them out. Apart from politics she's a mad-keen tennis player and a half-decent piano player.
Photo caption: Angie with her partner Nigel at their home
Read more about Ealing Central & Acton Constituency.